| | | | | | | |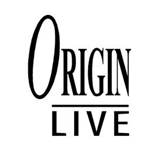 Origin Live Ultra Fully Balanced Phono Stage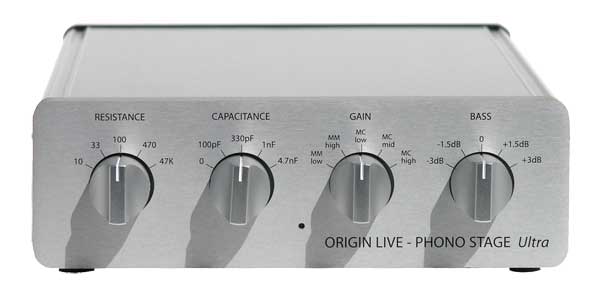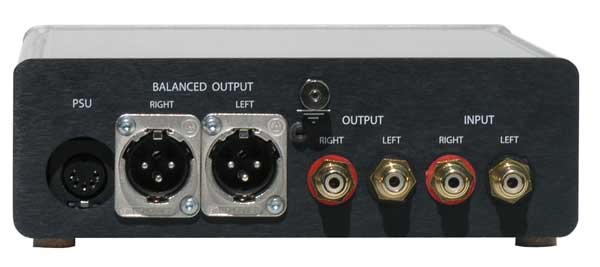 Gain - 5 switchable settings 47db - 75db
Impedance loading - 5 settings 10 ohms - 47K ohms
Capacitance loading - 5 settings 0 - 4.7nF
RIAA deviation 20Hz - 20kHz +/_ 0.5dB
Noise - 1nV per Hz
Power consumption 5W
Dimensions in mm 250 x 60 x 170( D x H x W)
Mains supply 230V or 110V
RCA phono input socket
Fully balanced XLR output
Normal single ended RCA phono output
Earth terminal
Origin Live Upgrade Platter Mat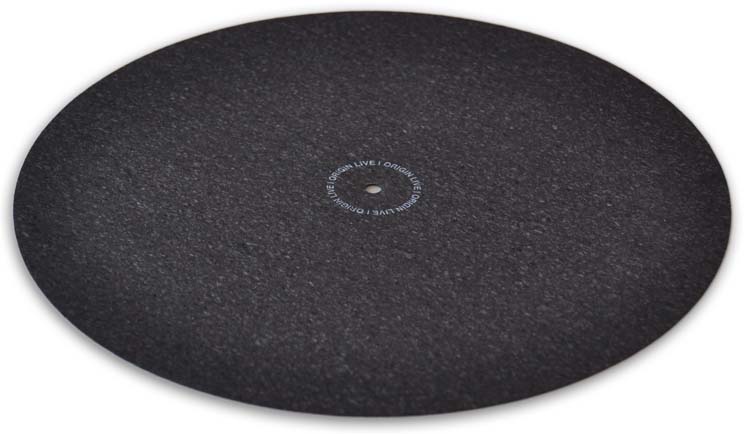 A HIGHLY SIGNIFICANT UPGRADE AT A LAUGHABLY LOW OFFER The unique Origin Live "upgrade" mat acts as the critical interface between your vinyl records and turntable.
Experimentation with different mats are simple and quick. The sound differences are usually obvious , even if your deck does not have a mat.
Users find that the "upgrade" mat makes a far greater difference than most mats but more importantly it is a positive difference to every aspect of the music.
Bringing Music alive:
- The new mat will greatly enhance your level of enjoyment due to the way it brings recordings alive. Music becomes far better integrated and more natural. In particular bass is solid and keeps time with the rest of the music - too often one hears slow bass that lacks attack, and has an overhang which muddies the rest of the music.
Not only this but the mat produces bass extension of maybe an extra octave. This new dimension of speed and air is not limited to the bass regions but extends right through the frequency range. The key words to summarise the differences this mat makes are - natural, dynamic and transparent.
The other week, I attended 2 live music performances given by entirely different groups. It was interesting that in the first, a violinist added superbly to a non classical band - the leader remarked afterwards "she has amazing tone". Later that week an Orchestra conductor was introducing a lead cornet player doing a solo and remarked "he has superb tone". After listening to the first few notes I could understand what he meant. It was the sort of rendition that was so noticably pleasurable to the ear that you wanted to keep listening. Another player, playing the same instrument may be technicaly brilliant, hit all the right notes but just not be that pleasant to listen to.
This provoked a lot of thought on the similarities of "tone" in hi fi equipment. It has to do with that indefinable "something" that measurements don't really have much hope of capturing. Some may claim to have the answers, but the truth is usually far more complex. The point of this story is that every material in the hi fi replay chain has a tone and some are far superior to others. The material you use to support the actual playing surface in vinyl is probably one of the most important.
A great platter mat has 3 functions which are very tricky to reconcile: 1. To decouple the record from vibration entering it via the turntable - this includes bearing noise, transmitted motor noise through the drive system, cartridge feedback "chatter" transmitted via the tonearm into the deck, groundbourne/ airbourne audio feedback, underground pumps etc.
2. To absorb and transmit resonance out of the record itself. It is hard to imagine the microscopic levels that a hi fi cartridge functions at. The truth is, that a stylus vibrating in a record groove sets the vinyl resonating in a way that will feedback into the stylus if not highly controlled. This feedback may be momentary to the tiniest fraction of a second but will nonetheless create blurring of the signal and overlay other parts so that they will not be heard. In other words there can be loss of information and addition of spurious noise to the intended signal. A good platter mat can do a great deal to eliminate these problems.
3. To transmit the drive to the record without elasticity or slip Unlikely as it may seem, the surface that the record sits on responds very slightly to the amount of drag on the record. At best, this will be a very slight momentary elastic movement backwards, but enough to slightly deaden the impact of a bass note drum strike for example. At worst it will cause the record to slip backwards - this is only blatently obvious when you can hear wow occuring, as in the case of a badly dished record, that only contacts the platter in the centre.
Over a year ago we introduced a semi rigid mat that we called the "performance mat". Feedback on this mat was almost universaly positive with users reporting superior performance over recognised market leaders that they already owned.
Further experimantation led to a new flexible composite material which sounded even better. Not just a bit better but a lot better. To be fair the new flexible mat (which we are calling the "upgrade" mat) does most things that the "performance" mat does, only it does them better - especially in the bass area. However the 2 mats can complement each other and the semi-rigid performance mat does add a touch of additional transparency to the flexible upgrade mat.
Finding a mat that works universaly well on all turntables is almost like the quest for the Holy Grail. In over 22 years we have experimented with countless platter mats varying from felt, fiberglass, air gap, various foams, cork, graphite, carbon fiber, acrylic, PVC, MDF, aluminium, rubber, silicon and steel laminates etc. This is to name but a few. Many of these mats yield significant improvements to some areas but have drawbacks in others.
A mat that works well on acrylic platters is almost unheard of but this one really does the trick! It also interfaces well with metal, glass and composite platters.
The Origin Live upgrade mat is only 1 mm thick, and so is well within the ability of most tonearm height adjusters. The material mix from which it is manufactured must remain confidential.
Remember the mat comes with a money back guarantee if ordered directly from Origin Live. Should you be in any way dissatisfied, just return the mat for a full refund (excluding carriage). Origin Live dealers may also offer a guarantee but this is at their discretion.


New Origin Live Upgrade Platter Mat
หมายเหตุ : มี DEMO ให้ยืมทดลองฟังตามเงื่อนไข
Universal DC motor drive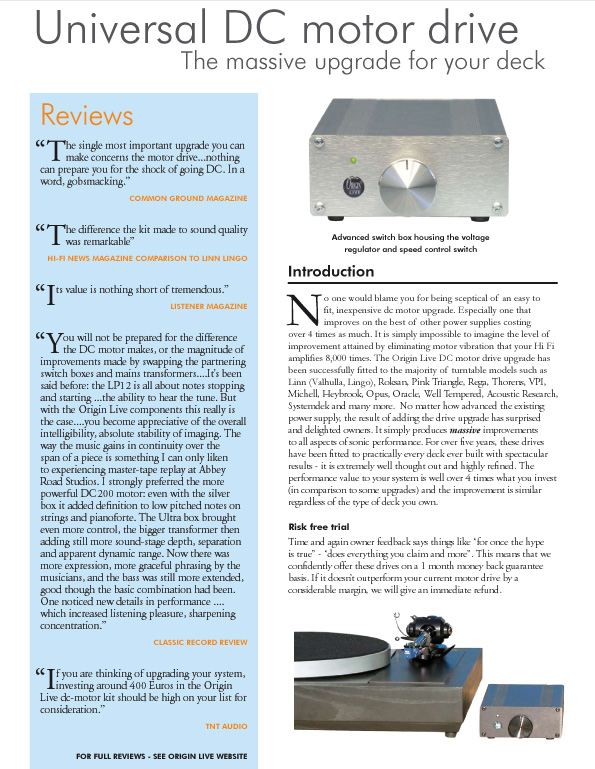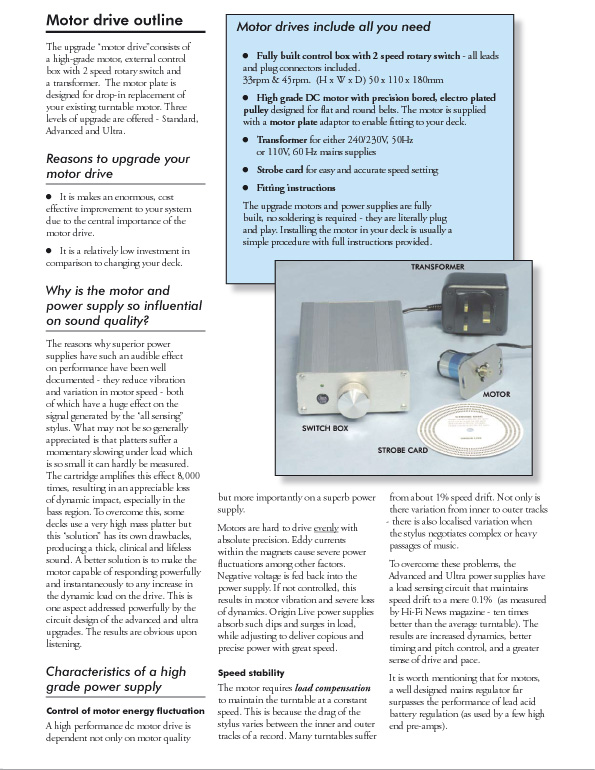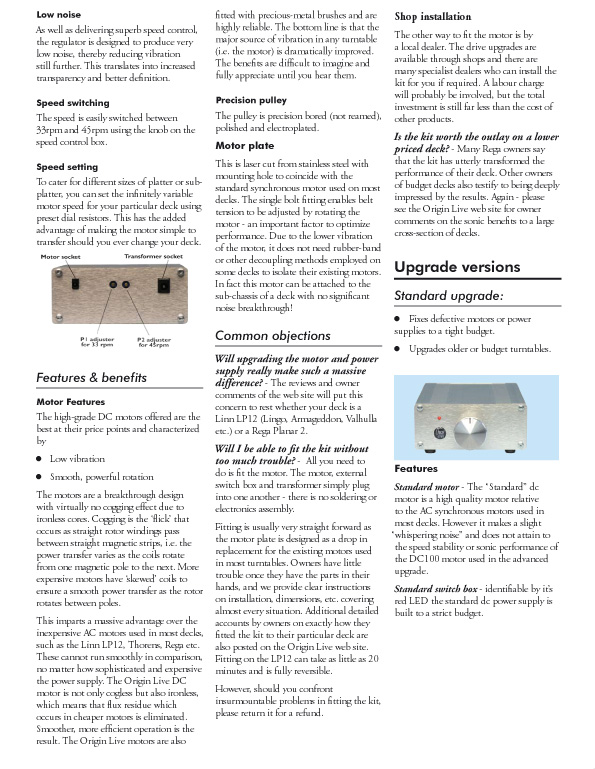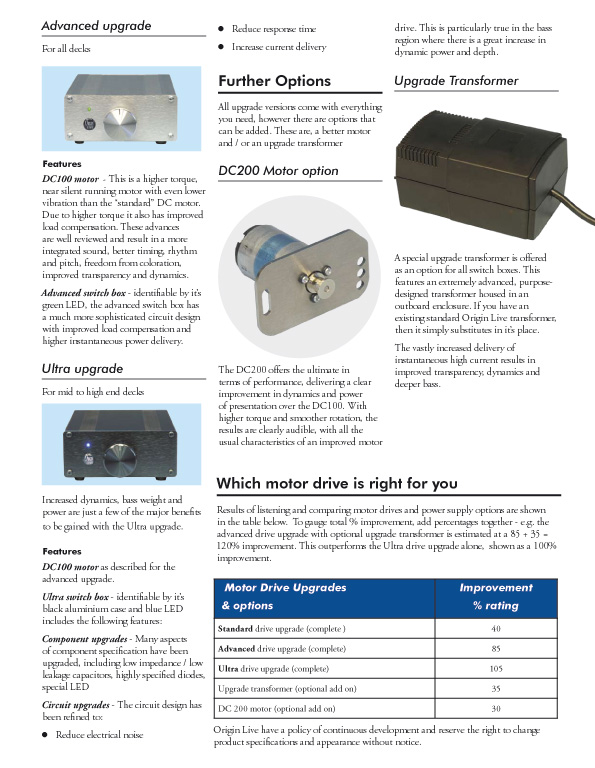 OL SILVER TONEARM ราคา 30,000 บาท

tonearm specifications applicable to all Origin Live arms
| | |
| --- | --- |
| Effective length | 240 mm |
| Overhang | 17.24 mm |
| Offset angle | 23 degrees |
| Mounting distance: platter centre to arm hole centre | 223 mm |
| Diameter of mounting hole | 24 - 25 mm |
| Size of base mounting nut | 32mm A/F (across flats) |
| Maximum armboard thickness | 27mm |
| Length of external cable | 1.2m except for DJ option of 2m |
| Capacitance in uF | 120 pF per channel |
| Resistance in Ohms | 0.002 ohms |
Variable specifications
| | | | | | | | |
| --- | --- | --- | --- | --- | --- | --- | --- |
| Specification | OL1 | OL1 full mod | Silver | Encounter | Illustrious | Conqueror | Enterprise |
| Effective mass in grams | 11g | 11g | 14g | 14.5g | 14.5g | 14.5g | 14.5g |
| Total weight in grams | 448g | 448g | 448g | 758g | 820g | 820g | 800g |
| Stylus Force guage included | ? | ? | ? | ? | ? | ? | ? |
| Threaded VTA adjuster included | ? | inbuilt | inbuilt | inbuilt | inbuilt | inbuilt | inbuilt |
Origin Live have a policy of continuous development and reserve the right to change product specifications and appearance without notice.
Standard OL1 ราคา 9,000 บาท

Aurora MK1 ราคา 48,000 บาท (ไม่รวมโทนอาร์ม)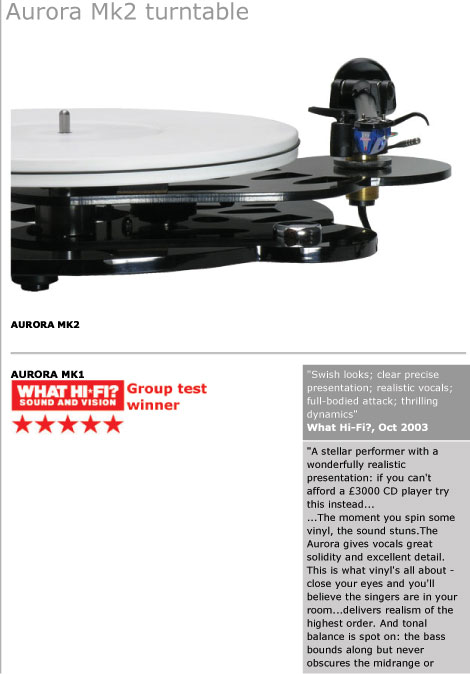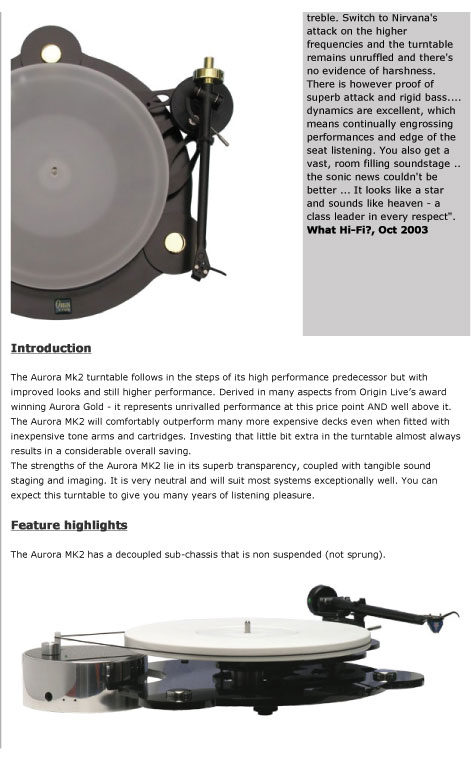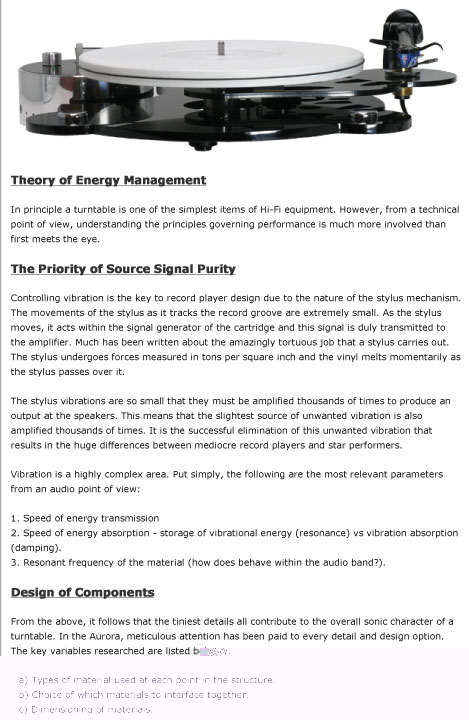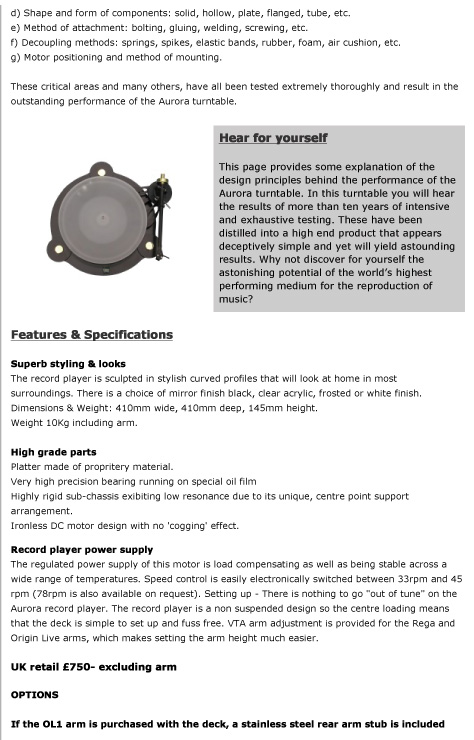 musicfountain ได้ตกลงกับทาง Origin Live ประเทศอังกฤษ เพื่อเป็นตัวแทนในการนำเสนอสินค้าต่างๆ เช่น โทนอาร์ม เครื่องเล่นแผ่นเสียง โฟโน และอุปกรณ์อื่นๆที่เกี่ยวข้องกับการเล่นแผ่นเสียงเป็นที่เรียบร้อยแล้ว
มาคุยถึงความก้าวหน้าของ musicfountain ที่เกิดขึ้นในเวลานี้ดีกว่าครับ คือ เราได้ตกลงกับทาง Origin Live ประเทศอังกฤษ เพื่อเป็นตัวแทนในการนำเสนอสินค้าต่างๆ เช่น โทนอาร์ม เครื่องเล่นแผ่นเสียง โฟโน และอุปกรณ์อื่นๆที่เกี่ยวข้องกับการเล่นแผ่นเสียงเป็นที่เรียบร้อยแล้ว ซึ่งโดยความเห็นส่วนตัวของผมเองนั้นคิดว่าผลิตภัณฑ์ของ Origin Live มีคุณภาพสูงและมีเอกลักษณ์เฉพาะตัวอย่างมากทีเดียว

แต่ก็นั่นแหละครับ.......ของจากอังกฤษทุกชนิดราคาค่อนข้างสูงอยู่สักหน่อย ผมจึงได้จัดมานำเสนอในเบื้องต้นไม่มากนักและราคาที่กำกับไว้ก็ขอใช้เป็นราคาตั้งไว้ก่อน (เนื่องจากทางอังกฤษต้องการให้ตั้งราคาเดียวกันทั่วโลก) ซึ่งหากจะมีใครสักคนต้องการสิ่งใดของ Origin Live ทั้งที่ปรากฏและไม่ปรากฏในหน้าเว็ปก็สามารถสั่งทุกอย่างผ่านทาง musicfountain ได้ ซึ่งผมจะพยายามทำให้ราคาย่อมเยาเท่าที่สามารถทำได้ครับ